Profile of the president of Friends of WHO JAPAN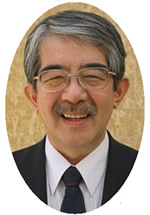 Dr. NAKAMURA Yasuhide is a Professor Emeritus of Osaka University.
After he graduated from The University of Tokyo, and worked as a pediatrician at Tokyo Metropolitan
Hospital, he started global health to encourage maternal and child health in Indonesia as a Japan
International Cooperation Agency (JICA) expert (1986-88) and to promote refugee health program in
UNHCR Pakistan Office (1990-91). He was a Takemi Fellow (1996-97) in Harvard School of Public Health
for international health. He worked in Graduate School of Human Sciences, Osaka University (2000-
2017). He is widely interested in conducting research through interdisciplinary approach in the spirit
of fieldworker; Maternal and Child Health (MCH) Handbook Programs in many countries, humanitarian
relief for refugees and victims by natural disasters, and health care system in Japan.
Dr. Nakamura is the president of Japan Association for International Health (JAIH), the representative
of International Society of Volunteer Studies and the president of Friends of WHO JAPAN. He got the
43th Medical Achievement Award (Iryo Kourou Sho) in 2015.
List of Board Members
List of Board Members
President, Representative Director
Yasuhide Nakamura
Professor Emeritus, Osaka University
Vice President, Representative Director
Yusuke Saraya
President, Saraya Co., Ltd
Kyoco Ikoma
President, Proassist,Ltd.
Director
Hideo Inui
President, Osaka Pharmaceutical Association
Hiroko Iwamoto
Lawyer, Iwamoto Hiroko Law Office
Naohide Ueyama
President, Dainihon Jochugiku Co., Ltd.
Junko Otani
Professor, Osaka University
Rie Ogasawara
Specially Apointed Senior Lecturer (full-time), Osaka University
Setsuko Oda
President, POLY-GLU SOCIAL BUSINESS CO.,LTD
Yasuyuki Takai
President, OSAKA Medical Association
Akio Tatsumi
Executive Director and Secretary General,
Japan Association of Production Technology Promotion
Seiichiro Nii
Representative Certified Public Tax Accountant,
Nii Joint tax accountant office
Mako Hirokawa
President, OSAKA NURSING ASSOCIATION
Hirotsuka Fukata
President, Osaka Dental Association
Yoshihiko Fukuoka
President, Board of Trustees of The Paleological Assosiation of Japan,Inc.
Nariaki Matsuura
President, Osaka International Cancer Institute
Tadashi Yasuda
Professor, Kindai University
Yasutaka Yamato
Director, Eco Design Network
Auditor
Shiro Ogasahara
Midosuji Tax Corporation & Institute of Organizational Design Founder
Tamotsu Kawachi
Monjyu Law Offices, Lawyer